A few days ago I had the chance to have Sharon den Adel from Within Temptation on the phone. Sharon was in Leipzig, Germany at that time, since there was a Within Temptation show on the agenda for the evening. I had the chance to ask her some questions about the running tour. Enjoy reading:
Markus' Heavy Music Blog: Hi Sharon, great to have you on the phone. How are you?
Sharon den Adel: Thanks for asking. Busy times but it's great to be on tour with the band.
MHMB: So how is the tour so far? You played already quite some shows?
Sharon: I have to say that this has been amazing. We have a lot of fans coming to our shows. The venues got a bit bigger, but there is still a great ambience together with the audience. Fans are into the new songs from the latest album and there is a lot of interaction between band and audience.
For us it's exciting to find out which songs work out live and which not. For example "Moonlight silver" worked perfect on the album, but didn't get the same reactions during the show. On the other hand there is "Dangerous" which isn't the biggest fan-fave on the album but makes people going nuts during the shows. Fans are jumping around and singing along. Those things are the great moment on tour, because things really become alive.
MHMB: Surprising to hear the "Dangerous" wasn't a big fave of fans on the album. I think it's one of the best songs.
Sharon: Oh, that's cool to hear.
MHMB: How do you actually do this song live? Of course you can't take Howard Jones with you on tour just for this song.
Sharon: That's true. But you know, we did the video together. So we had the video content and that is what we use now live as well. It's actually the same setup, which we have done a few years ago when I did the duet with Keith Caputo. But if there is a chance to get a real person on stage we would prefer this. We had e.g. an appearance on German TV during a boxing event in Rostock. There we played "Whole world is watching", which we did together with Piotr (Rogucki). Actually we had a lot of fun during this event. We had a very warm welcome there and we even got a short lesson in boxing. So it was a new experience and a lot of fun.
MHMB: Talking about the setlist, I have seen that you put "Summertime sadness" from Lana Del Reye on the list. We have you chosen exactly that number for the live shows?
Sharon: The main reason is that I love the lyrics. It's senseful and soulful. We have also seen that everybody feels good with the song and even though it has a bittersweet momentum it's still a quite positive tune. Singing ...baby, you're the best..." is a nice way to shows the appreciation for the audience. They are the ones making Within Temptation what it is. Esp. in these times when things get harder in the music industry we are glad with having this fan base, because they make it possible for us to do what we live – and this is making music. We also play "Covered by roses" which is gives me the chance to say a view words on how we started and that you have to live your dream. This was important for use and maybe we can bring this over the people as well.
MHMB: Where have you played shows during this tour already? I think it started more in Eastern Europe.
Sharon: Yes, we started actually in Helsinki before we went into Russia, Belarus and Hungary for some shows. This part of the tour is now more the UK, Germany and France, before we will have the final two shows in Amsterdam (MHMB: Review soon on this blog). So it's a mix of a lot of countries and you see many different people – fans between 8 and 90 years.
MHMB: Talking about the different countries of the tour - you had to cancel the concert in Kiev due to the political situation. I can imagine that this was a tough decision to make.
Sharon: Yes, true. It was very difficult. I actually wanted to go, but of course we have also the responsibility for the crew and everybody who is with us on tour. And of course not to forget he people who are coming to the shows. Next to that we also had to keep in mind to get out of the country again in such a turbulent situation. So we cancelled the show, which was definitely the right decision, and we will come back later this year. But I don't really think that things will become much better quickly. So I'm hoping that everything is OK again in autumn, esp. for the people living there.
MHMB: And than there will be last two shows of this leg of the tour. They will be in Amsterdam, so home match. Is there something special what we can expect.
Sharon: There aren't very special plans, but the Heineken Music Hall is of course a big venue, which allows us to use the entire stage setup. We can put up the stage as we have designed it. That means that it will become spectacular shows and as it looks now, we will also record the shows.
MHMB: Than I have seen that you have a tour diary on YouTube ... and also a fan activity. So the question is, how important the social media is for you guys?
Sharon: Since we are a band, which doesn't get a lot of airplay on the radio we have to find other ways to be visible for the fans. Social Media a great tool, which helps to stay in contact with the fans. They e.g. did their own videos, in which they told what they are thinking about our shows. This is of course excellent instant feedback for us. It's an interesting experience to see all the responses. Those are the main reasons for us to use the internet and we still try to stay updated with all the latest developments.
MHMB: Sharon, thanks that you could reserve a bit time for us during the intensive tour and have a great show tonight in Leipzig.
Sharon: Thanks for having me and looking forward to the Amsterdam shows.
Interview by Markus Wiedenmann
Live review WITHIN TEMPTATION /DELAIN, 03.05.2014, Heineken Music Hall, Amsterdam
The Netherlands seem to be THE place to be when it is about female-fronted symphonic metal. What started in the early 90's with The Gathering found it's continuation in bands like Within Temptation
http://mwiemetalblog.over-blog.com/2014/05/live-review-within-temptation-delain-03-05-2014-heineken-music-hall-amsterdam.html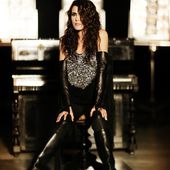 CD review WITHIN TEMPTATION "Hydra"
(8/10) Almost three years after releasing the very successful but also trendy &The unforgiving& album Within Temptation comes out with their new record end of January. The name is &Hydra& and I ...
http://mwiemetalblog.over-blog.com/2014/01/cd-review-within-temptation-hydra.html