Markus Heavy Music Blog: He Marios, how are you?
Marios Iliopoulus: Hey man all fine here. We are working a lot for the promotion of the new album which means a lots of phoners and email interviews. We are very happy that the new album is already out in the stores fwith support from the awesome people at Despotz records. We can't wait to see more feedback from press and the fans.
MHMB: "The puritan" is out in the stores since a few days. What are the first reactions from the fans?
Marios: The reactions so far are very positive and we have gotten amazing reviews from big mags like German Metal Hammer and Danish Metalized. We got and get every day many comments from our fans telling us that they love "The Puritan". We are very happy that people are embracing the new album with such a positive attitude and we can't wait to see more reactions.
MHMB: As you mentioned already, it is the first record for Despotz Records. What was the reason to sign there and how was the cooperation?
Marios: We are very happy that we finally found Despotz records and it feels that we found a team of awesome people that are caring and loving the music as much as we do. So far our cooperation is going really well and they keep delivering awesome stuff for us. The reason to change label was the fact that our deal with Lifeforce records came into an end after 3 full length albums and they weren't interested to work with Nightrage anymore. So we started to look for a new label home until we got in touch with Despotz records. They loved the 4 song demo we sent them and in no time they offered an awesome deal.
MHMB: I had the feeling that the album has a few more thrash influences compared with the earlier releases. How would you describe "The puritan"?
Marios: The new album its really intense and we brought back the melodeath thrashing death metal riffs that we are well known for from the first 2 albums. On the new album we are still maintaining our pure melodic death metal style with no compromise and we also had a great evolution on the songwriting. Our sound is very refreshed and powerful. We are focusing writing more with the feeling and we want to make the songs very accesible for the music fans to understand.
MHMB: The songs are kept shorter and more straight-forward this time. What is the reason for this?
Marios: The material we had was calling for that direct approach and we tried to write really good songs. Not just flashy arrangements, we focus on craftmanship and not on showing off. i mean, we can write complex stuff but we felt this time that we wanted to play music that comes from the bottom of our hearts. "The Puritan" is a great example of that new mentality and our need to keep the music fresh and exciting without any commercial aspirations. Keep it honest and true. We are very proud of being a metal band and you can listen to that feeling on the new album.
MHMB: The new longplayer got a very good production. The album sounds almost a bit too clean. Was this also the intention?
Marios: We recorded the new album at Dug out productions studio with Daniel Bergstrand and George Nerantzis. Those guys are super professional and they gave us the best sound ever. The new sound is very organic and super powerful. It works perfect with the new songs. We knew that Daniel is a master of doing those killer metal productions. And I trusted him that he will give us the sound that we were looking for.
Drums and guitars are very powerful and in your face. The vocals have a great mix. Ronnie worked a lot to write catchy vocal melodies, plus you can hear the bass guitar loud on the mix which makes the songs very groovy,. We are so happy with the sound and the overall mix-master. We all have worked very hard to achieve the best possible sound. Thanx again to the awesome duo of Daniel and George working countless hours to helping us make it happen.
MHMB: How did the songwriting took place? I guess you have written most of the songs.
Marios: Yeah everything starting with me doing those initial demos with rough guitars and digital drums on my home recording studio. Then we got to work with my friend Peter Sundtröm at his Human Machine studio doing a 4 song demo only for labels and testing the new songs plus recording all the 12 string guitars for the actual album. Later on we recorded the album at Dug Out Production studios. I have written the new album music and lyrics together with Ronnie and I can tell you that it was a great collaboration. Ronnie also had great ideas for all the songs and that makes the new album a collective effort where everybody's heading for the best for the new album and it shows.
MHMB: Is it you who wrote the lyrics too or was this in the responsibility of Ronnie?
Marios: We wrote all lyrics together with Ronnie as well. It was nice that we had the time to sit down and exchange and discuss about all the subjects that we had in mind. I feel that we have a great chemistry working together and we have written very good lines for "The Puritan"
MHMB: "When gold turns to rust" was written in a collaboration with Gus G. Do you guys still have a very good connection?
Marios: Yeah we are still best friends after all those years and it was cool that we had the opportunity to write once again and compose a song like we used to do back in the old days. I´m very proud of what Gus has achieved so far with his career. It is the passion we always share and still burning for.
MHMB: What is the background to have with "Lone lake" an instrumental on the album? Was it to also show the acoustic side of Nightrage? Or was it more to have a kind of break in the middle of the album?
Marios: It's a tradition for us to write an instrumental song on every Nightrage album. This time I wanted to have a song with an acoustic kind of vibe. It's still a Nightrage song and a part of what we are doing musically since, except of the metal intensity on our songs, we also have a much more calmer and softer side which we like to express on our music. That creates a nice contrast with the rest of the songs. It's not that we are going to be an acoustic band, but that sort of acoustic style is also one of the things that we like to do and it makes Nightrage a bit different.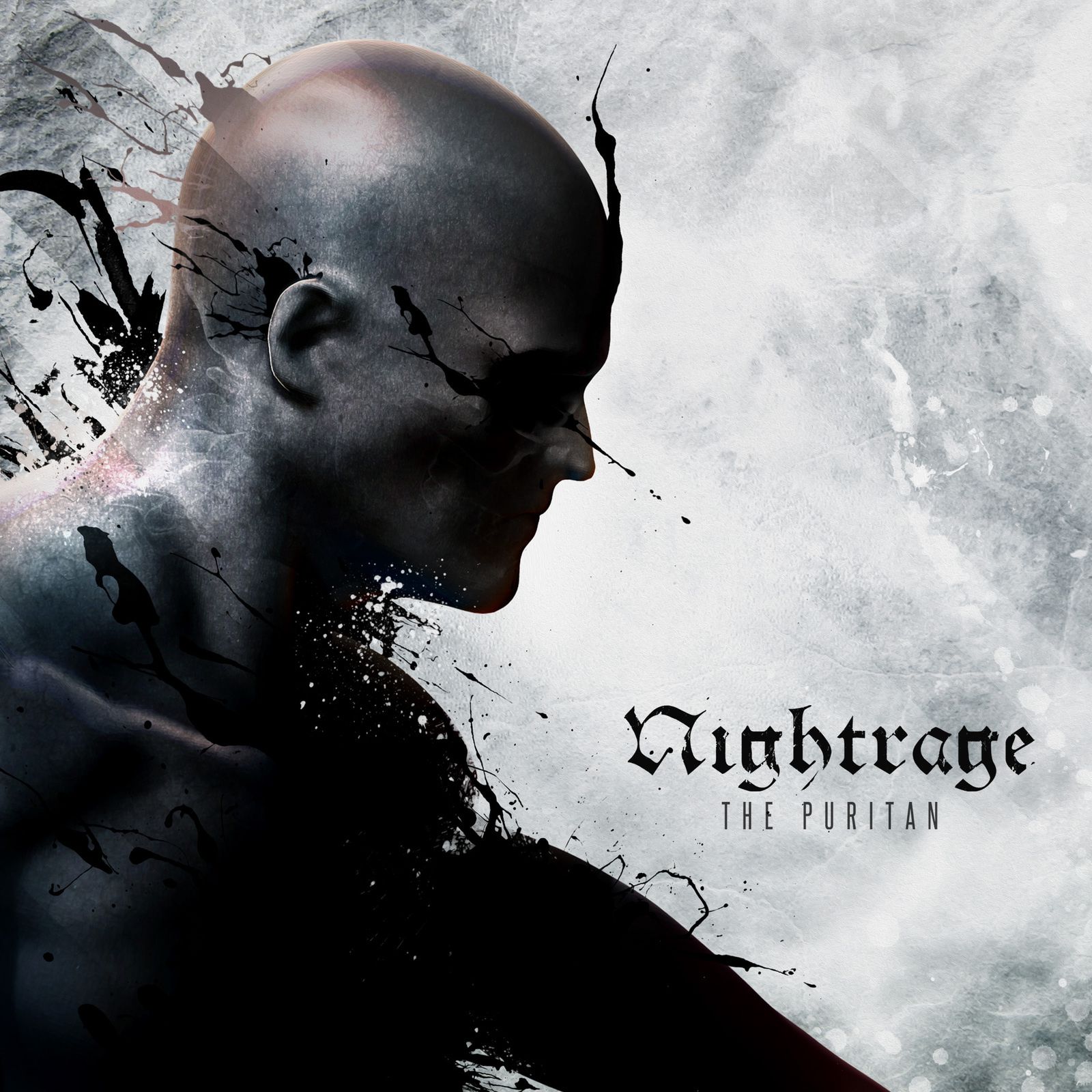 MHMB: The cover of "The puritan" reminds very much to the first two albums. Esp. "Descent to chaos" looks very similar. Was it a conscious bridging back to the early days?
Marios: Not at all. We gave our ideas to Mirfin from Cephalospinal Design and then, in no time, he deliver to us this amazing artwork which we really like. It fits with the lyrical concept of the album. Now you are mention it I can see some similarities but it didn't happened intetionally. Maybe you can say that this could be a link to our past work and connects the old and new Nightrage.
MHMB: Marios, you are the constant factor in the band. You are the mainman of Nightrage. How does it come that in all those years so many different musicians have been part of Nightrage?
Marios: Yeah, if you think about all the line up changes that we had so far its a bit out of control which is not the best thing that can happen to the band. But I believe so much in Nightrage and i know that all those changes have been needed to get done for us in order to be able to stay alive. Otherwise we would be a dead band by now. I feel that even with all those changes we still keeping the musical quality and our integrity as artists. We are dedicated to the art and to the songs that we are doing. That's where our main focus is concentrated. We never let our great fans get down. Life is hard most of the time but you need to move on. We had to take those decisions, leaving behind all the stuff that was holding us back. I guess everything happens for a reason here. All those ups and downs and the fact of now having this new line up and this new album, means the world to us.
MHMB: I could imagine that new musicians bring new ideas. On the other hand you always have to create some common ground. Are all those line-up changes more an opportunity or burden for you?
Marios: All those line up changes that happened in the history of Nightrage it was a matter of necessity for us. We needed to move on keeping Nightrage still an active live band and that's releasing albums. We had people letting us down in the last minute, people doing insidious acts behind our backs, people dissapearing all of a sudden, people getting drunk and destroy everything for us, like for an example a DVD shoot in Poland, or people controlled by money and fame that wanted to pursue carreers in pop music. Lots of weird stuff that we are not agreeing with and also could not tolerate either. So the only way for us was that these people needed to get out and we needed to move forward.
MHMB: This time it is singer/growler Ronnie Nyman how joined in. He has a hardcore background and does a pretty good job on the album. How easy or difficult was it for him to switch from hardcore to death metal?
Marios: I think Ronnie Nyman is an amazing melodic death metal vocalist as well, besides his hardcore style. I think he can do boths styles very well. So it was very easy for him adapting to the Nightrage style. He is playing for many years melodic death metal music and I think he has that sort of experience. For me he has the whole package; great vocal skills, amazing stage performance and most of all a really good character. I feel his contribution makes Nightrage stronger than ever before.
MHMB: Do you sometimes have the wish to have a more stable line-up for the band?
Marios: Yeah. I'm the last person on earth that wanted us to have those line up changes. Unfortunately that is not up to me. Those changes happened for a reason and we needed to act accordingly. I feel that I´m doing my job really well and I'm always trying to keep everybody happy. But judging from my own experience, I came to the conclusion that the more you give, the more people want from you. Let's hope that this line up we have now with my buddy Ronnie and Anders will stay forever. I can't see the reason why not, since we are all on the same page and we love to play metal and hangout together. At least those guys they don't want to play pop music hahahaha and thats a good thing.
MHMB: How about live shows in the coming months. So far there is nothing announced. But are there some plans for 2015?
Marios: Yeah, we have a lot of plans for touring now. An Asian-Australian tour, also 2 Euro tours after the summer and in addition a North/South American tour are on the works. We need to get out there and start playing the new songs for our fans and connect with all our audience promoting "The Puritan"
MHMB: Is there something more you want to share with the fans?
Marios: Thanx a lot for the great interview and the awesome interest on Nightrage's new album. Can't wait to start playing a lot of shows for all of you out there pretty soon. Metal on my friends, go and support Nightrage and buy our new album "The Puritan". See you soon and stay metal.
MHMB:Thanks for having you in the interview and thanks for the open words.
Marios: Thanks for having me.