Hard Action is a new band from Finland that plays rock'n'roll with a heavy punk attitude. The guys release there new album "Sinister vibes" as we speak. Of course we have been curious to get more insights and asked some questions to Ville Valavuo, guitarist of the four-piece band. Check out what Ville has to say.
Markus' Heavy Music Blog: "Sinister vibes" is the debut of Hard Action. Can you tell us a bit more about how Hard Action started?
Ville: We started about a year ago when it turned out. Markus, Gynter and myself had all been thinking of starting a rock n roll band. Everything came together very quickly as Aapee joined in September 2014; after he heard that we had a rock n roll band and were looking for a bass player. The idea was to combine all the stuff we grew up with; punk rock and late 60's/early 70's hard rock.
MHMB: Hard Action seems to me like the equivalent to Speedtrap - just punk influenced hardrock instead of NWoBHM. What was your idea to start Hard Action next to Speedtrap?
V: I had been thinking about starting a rock n roll band ever since I started playing as a kid. The problem all these years was finding a singer. Now that we finally found Gynter it was clear that we had to start this band and make the best of the chance that was given. There's always been a lot of rock n roll elements in Speedtrap as well, but the elements were always mixed with heavy metal or hardcore punk, so it turned out a bit different.
MHMB: What are the bands that influenced you most when you wrote the songs for "Sinister vibes"?
V: We all grew up with stuff like Stooges, MC5, Ramones, Motörhead, etc. and we wanted to combine all of that into something that became "Sinister Vibes". Early punk rock is definitely an important influence. We even recorded "Hey You", a song that was originally recorded by an early New York punk rock band Testors.
MHMB: How did the songwriting take place?
V: I wrote the music and lyrics to 6 tracks and Gynter did the rest. Then we just brought the song ideas to rehearsals and jammed em into their final form. Everyone was taking part in arranging the songs. I think it's important to let everyone share their ideas about every song. Usually there's something that a songwriter can't really see until someone else points it out.
MHMB: "Sinister vibes" will be also released as vinyl? What do you guys think about the current booming vinyl hype?
V: Personally I prefer buying music on vinyl, but the current vinyl hype just got out of hand and kind of ruined the whole thing. It's pointless to re-release something you can find everywhere for just a couple bucks. I guess the original idea behind record store day was OK, but now it's just annoying. All the pressing plants are way too busy with overpriced RSD releases while independent labels are forced to wait 5 months to get their records from the pressing plant.
MHMB: Is Hard Action more a kind of project or are there more plans for the future?
V: It's a real band, and we're writing new stuff all the time. The next release will be a 7" single on Sweden's Bootleg Booze Records later this year. I guess after that we'll start working on the next full length.
MHMB: Can we also see you guys live on stage in the coming weeks/months? Are there any plans for live shows?
V: Yes, we've got a few shows and festivals booked already and later this year there will be more. We're also planning a european tour for January 2016, I really hope it works out.
MHMB: Is there anything more you want to share with the fans?
V: Go grab a copy of Sinister Vibes when its out on June 12th! See you at the shows!!
MHMB: Ville, thanks for the interview. Hope to see you guys on the road.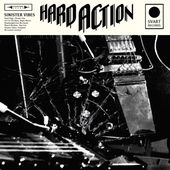 CD review HARD ACTION "Sinister vibes" - Markus' Heavy Music Blog
(8/10) Good rock'n'roll doesn't need more than some good riffs, a pushing rhythm and a kick-ass attitude. Those are exactely the incrediences used by the Finnish four-piece Hard Action. &Sinister ...
http://mwiemetalblog.over-blog.com/2015/06/cd-review-hard-action-sinister-vibes.html