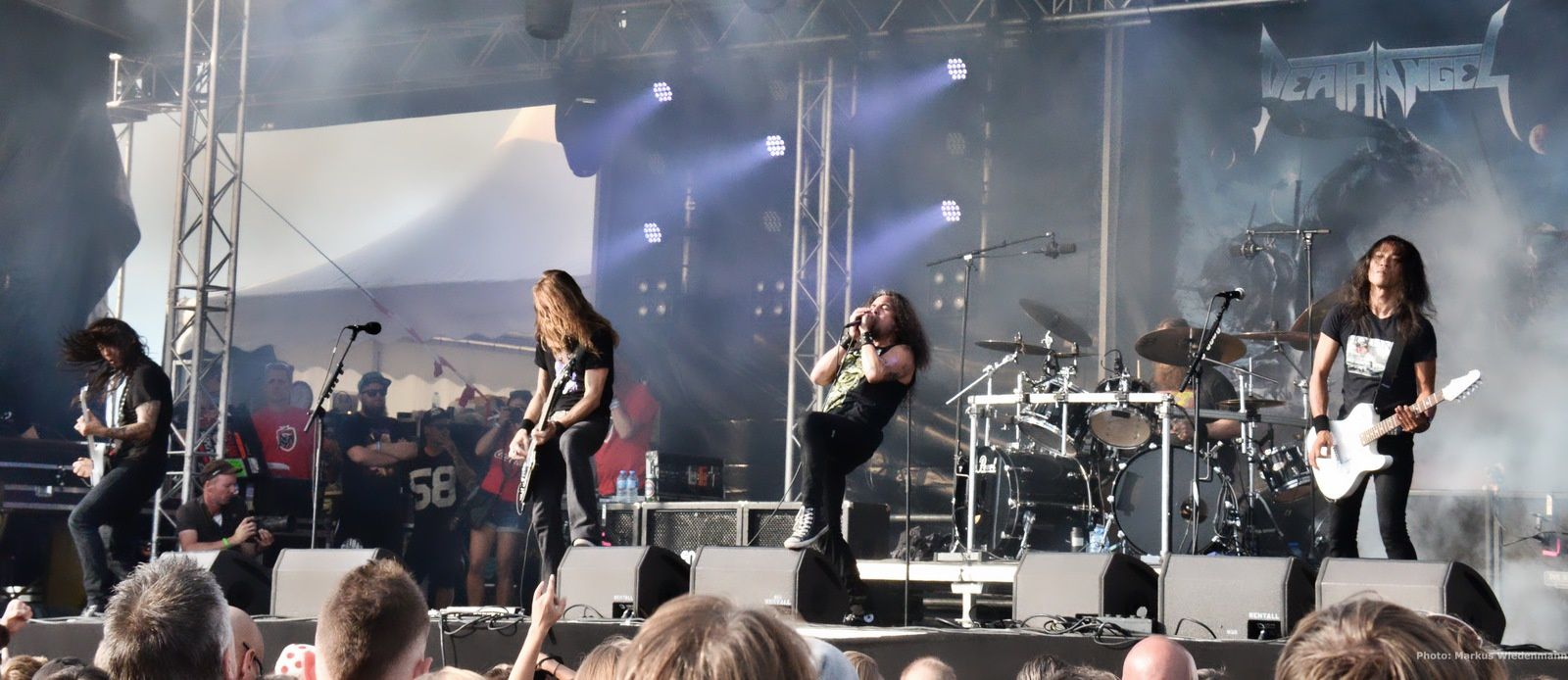 The Schollenpop festival is a beautiful smaller event that takes place each summer in The Hague. It is the unique location on the Zuiderstrand, which is The Hague's beach, that makes the festival to a really nice one. On top of that it is a 'free entry' event that gives also young bands every first Saturday in August a platform to show their talent and present their music.
Open Air festivals are weather depending, especially when they are on the beach. Rain and storm is not what you need. But, after having had a few vey bad days, this year the sun came out right in time for Schollenpop. It was a real beach-feeling with great music and an awesome sunset.
When it comes to the artists I have to say that their is a big variety of styles and music, performed by very different bands; mainly from The Netherlands and Belgium.
This year, it is the 19th time that the festival took place, Death Angel got a spot on the running order. It was a bit of a bizarr situation seeing them in the afternoon sun on the mainstage; embedded in rock, electro and folk bands.
Anyway, Death Angel wouldn't be Death Angel if they would not give their best at each show they play. This was also valid this time. The five-piece from the Bay Area entered the stage and it was obvious that they will take no prisoners today. The guys delivered a full blast and played a setlist that was a journey though their musical history. Even "Veil of deception" from the "Act III" record found a spot on the setlist. But also the 'new' stuff has been played; like "The dream calls for blood" from the latest longplayer.
Death Angel's show was a pure 60 minutes metal blast on the beach of The Hague that was highly appreciated by the fans in the first rows. Fans of some other bands stood their, partly in thrilled astonishment about what they heard. After having had a real storm a week before, it was up to Death Angel to deliver a thrash metal storm this time - and they did.
Talking about metal - the Bay Area legend hasn't been the only metal band. For the first time the festival got a 'Metal Stage' where bands like Distillator and Sad Iron performed. And actually I have to say that Sad Iron did a very cool show. Their speed metal from the eighties sounded quite good and sad enough the band didn't release anything in the last 30 years.
The end of the metal night was reserved for Martyr from Utrecht. Their show started a bit later than planned; however, they burned down the metal stage and closed an exciting day at the Zuiderstrand in The Hague.
Even if their are bands that might not be on the toplist of a metalhead, Schollenpop is a cool festival that makes a lot of fun. Mark the first Saturday in August 2016 already in your agendas and let's keep the fingers crossed that another band like Death Angel will find their way to The Hague :)
Location: Schollenpop, Zuiderstrand, Den Haag, The Netherlands
Date: 01.08.2015