Fans always wanted Udo Dirkschneider doing Accept songs as being part of the regular U.D.O. shows. And of course, these old classic are awesome and milestones in metal music.
But U.D.O. is not Accept and therefore Udo Dirkschneider decided to do a tour with only playing old Accept stuff - for the last time. This is a bit sad since it's always great listening to him singing tunes like "Fast as a Shark". But on the other hand, these shows are the perfect moment to revitalise the 80's, listening to the singer with the iconic voice, doing great songs.
To have a clear distinction between his own band and the "Accept-songs-shows" Udo and his gang sails under the banner of 'Dirkschneider', performing 2 hours of Accept milestone.
But before the small guy with the great voice started it was time for Burning Rome to prepare the fans for what was supposed to come. Unfortunatelly I missed the guys and can't report more about their gig.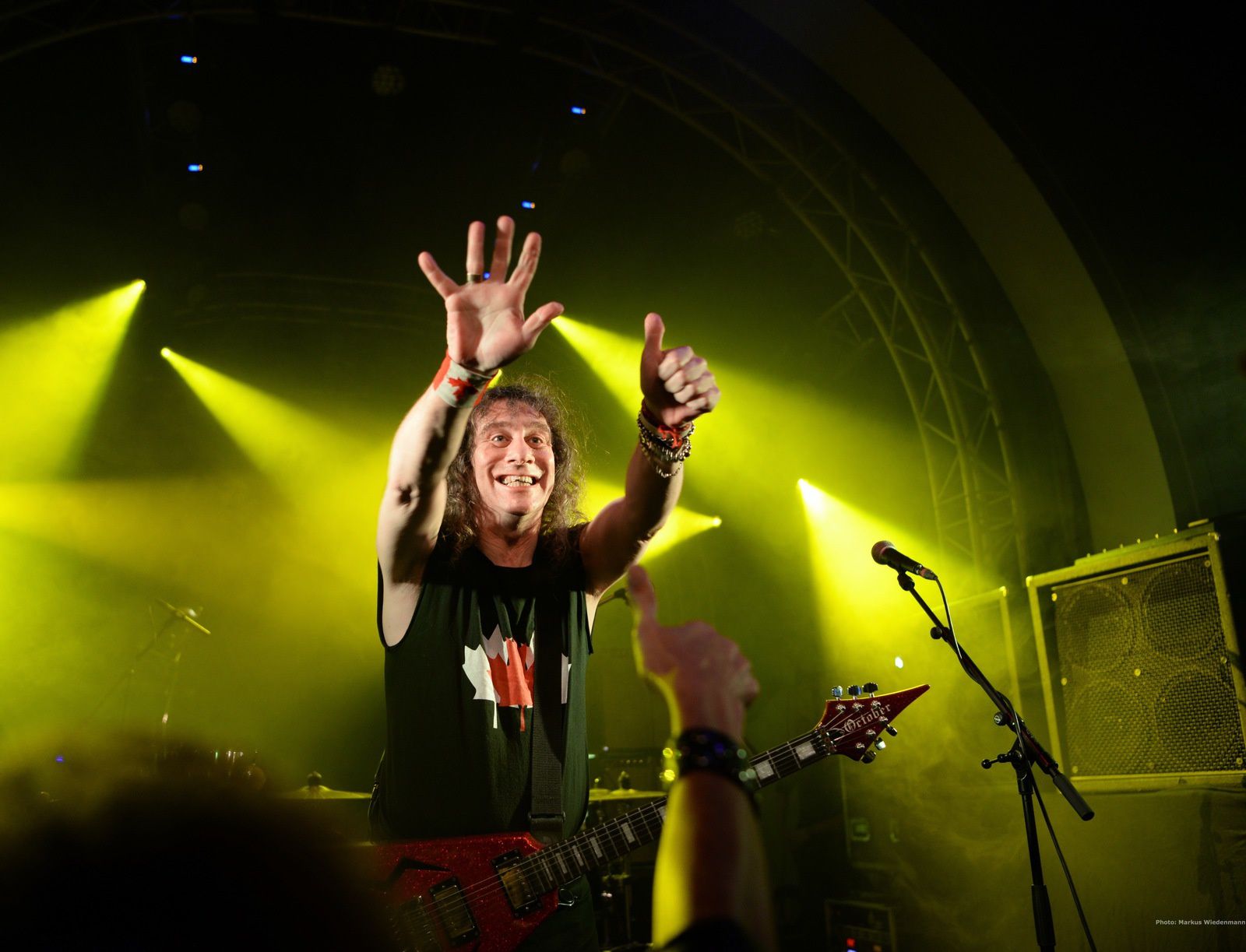 Then I arrived it was time for the first legend of the night - Anvil. Since you all are metal fans I don't have to introduce you to this trio. You followed all the ups and downs of this band, that belongs to one of the most honest, true and authentic bands in metal (in case you seriously haven't heard about them before, watch their movie "The Story of Anvil").
Steve, Rob and Chris just rocked that night. A well done setlist was really celebrated by the fans. A lot of the great Anvil songs have been performed. "666", "March of the Crabs" and "Metal on Metal", do I have to say more? All excellent food for headbanging and true energizers.
That Anvil is a band that has a close link to their fans became for obvious already during "March of the Crabs", where Lips stood in the middle of the venue, surrounded by fans, playing his guitar. Such a start was more than just a musician and fans, this was a homogenous moment of appreciating riffs and metal, all together.
After such a really cool beginning the rest of the show could also easily live up to expectations. I mentioned the old stuff, but also "Daggers and Rum" from the latest album "Anvil is Anvil" have been performed, a song that has this 'pirate' vibe which fits suroringly good to Anvil's sound.
The trio hammered 60 minutes of pure metal into the crowd and I'm very happy that the guys finally get the appreciation they actually deserve.
Then the stage was prepared for Udo Dirkschneider and as I said in the beginning, it became a magic night with Accept songs. 2 hours of old stuff that included everything an Accept fan could ask for. "Breaker", Restless and Wild", "Princess of the Dawn", TV War"... you name it. And there is no doubt about the fans really celebrating each note played.
So, one thing are the songs itself that are all a treat for your metal ears. But it's also Udo Dirkschneider performing these tunes that makes them special. He is the original singer and when he sings tunes like "Balls to the Walls" it's just a moment that gives you the shivers. And it's more than only him. The legendary frontman has also a good band supporting him. Fitty Wienhold on bass and Udo's son Sven, both ensuring a solid rhythm foundation that has a hard punch and with Andrey Smirnov and Kasperi Heikkinen, the band can also build on two pretty good guitarist.
That means, in the end it has been the song, the frontman and the band that gave the fans a two hour metal blast, from a lot of headbanging to enthusiastic sing-a-long parts in the beginning of the "Fast as a Shark
All in all it was really good show with songs that we might not hear anymore from Udo. I hope that he rethinks this decision and still adds one or two classic to his future U.D.O. shows. But to be safe, better check out the upcoming Dirkschneider dates and be part of such an impressive retrospective on German metal from Solingen.
Setlist Dirkschneider:
Starlight

Living for Tonight

Flas Rockin' Man

London Leatherboys

Midnight Mover

Breaker

Head Over Heels

Neon Nights

Princess of the Dawn

Winterdreams

Restless and Wild

Son of a Bitch

Up to the Limit

Wrong is Right

Midnight Highway

Screaming for a Love-Bite

Monsterman

TV War

Losers and Winners

Metal Heart (Encore)

I'm a Rebel (Encore)

Fast as a Shark (Encore)

Balls to the Wall (Encore)

Burning (Encore)
Setlist Anvil:
March of the Crabs

666

Oooh Baby

Badass Rock'n'Roll

Winged Assassins

Free as the Wind

Daggers and Rum

Mothra

Swing Thing

Die For a Lie

Metal on Metal
Location: Dudok, Tilburg, The Netherlands
Date: April 12th, 2016