(*/10) It was in spring this year when a countdown caught my attention. Actually it was an Instagram post talking about a band called Prophets Of Rage, followed by the mentioned countdown. The motto was 'The Party's Over' and the hashtag was #takethepowerback. Then, on a trip to Toronto, I saw the posters all over the city and the fog lifted latest when the guys performed for the first time live in Los Angeles.-
Prophets Of Rage is three quarters of Rage Against The Machine plus members of Cypress Hill and Public Enemy. To be precise, we are talking about Tom Morello, Tim Commerford and Brad Wilk accompanied by Chuck D and DJ Lord from Public Enemy, plus B-Real Cypress Hill. The mission of these guys was described by Morello in an interview with the Rolling Stone magazine as: "We're an elite task force of revolutionary musicians determined to confront this mountain of election year bullshit, and confront it head-on with Marshall stacks blazing."
Prophets Of Rage are on tour right now through North America and the guys also released an EP supporting their message and their mission. Simply named "The Party's Over" the EP contains 5 songs of which three are live recordings.
"Killing in the Name" from Rage Against The Machine made it on this EP as well as "Shut "Em Down" from Public Enemy - both in a live version. The third live recording is from Cleveland when the guys performed "No Sleep Til Cleveland" which is basically a cover of Beastie Boys' "No Sleep Til Brooklyn". This is such a powerful version that I think it can at least live up to the original song. Also Public Enemy's "The Party's Over" can be enjoyed and with "Prophet Of Rage" the name giver song is on the EP too - of course.
All in all this EP contains stuff that's maybe not new. However, it's music that is great to listen to, a combination of musicians and sounds that support each other very well, giving the songs a new powerful expression. Also considering the message of Prophets Of Rage makes this EP to a release that demands your support.
(*/10)
Tracklist:
Prophets of Rage

The Party's Over

Killing in the Name (live)

Shut 'em Down (Live)

No Sleep Til Cleveland
Label: Caroline Records
Genre: Crossover
Release Date EU: August 26th, 2016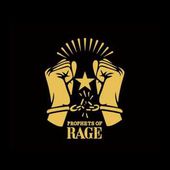 Pre-order "The Party's Over" EP and get "Prophets of Rage" and "No Sleep Til Cleveland" instantly: iTunes: http://smarturl.it/ThePartysOver Amazon (CD & MP3): http://smarturl.it/ThePartysOver_Amz ...
https://www.youtube.com/watch?list=PLlwenH0_kLvOnjPb7MVYqmEu96bZ6C-Dv&time_continue=2&v=n29LR6UCjVw