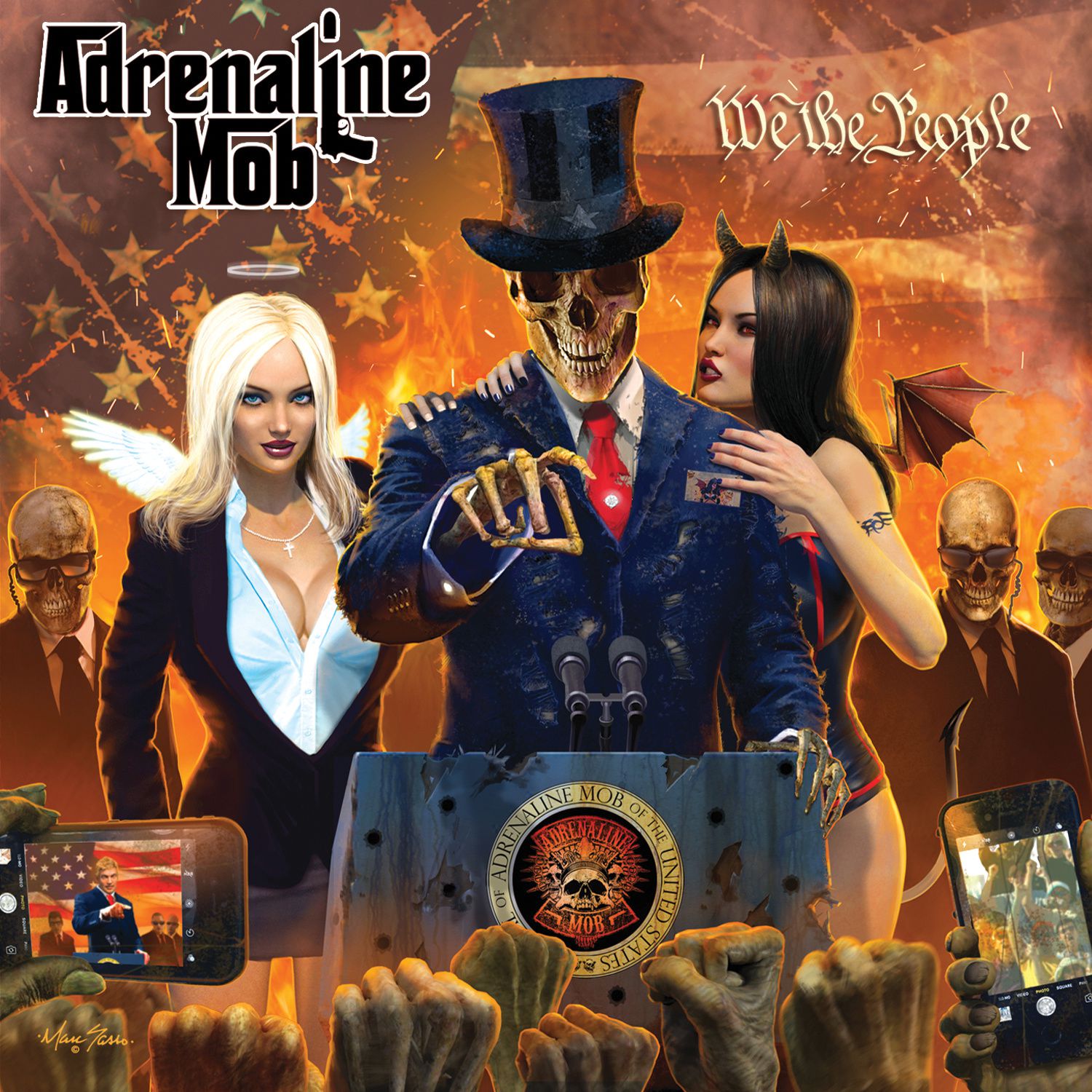 (8/10) Adrenaline Mob debuted in 2012 with their first album "Omerta". The line-up of the band, that was brainchild of guitarist Mike Orlando and singer Russell Allen, also included exceptional drummer Mike Portnoy and bassplayer John Mayer. In that sense it was almost a kind of 'super group', which gave the band a higher level of awareness in a rather short period of time.
Years went by and the line-up, as so often, started to change. Portnoy and Mayer left the band and replacers were found within a shorter period of time. The next strike of fate hit Adrenaline Mob when drum legend AJ Pero, who was part of the band, passed away due to a heart attack. It almost felt like the band was ill-starred but even in this situation Orlando and Allen decided to go on for what they be hooked to – well-crafted metal with Adrenaline Mob.
Working on their third album "We the People" brought back a positive outlook and set the band into a comeback mode. David Zablidowsky on bass and Jordan Cannata on drums complete Adrenaline Mob's line-up, a quartet that did a pretty good job when it comes to the 13 songs that made it on the current release.
After having found the right frequency things kick off heavy and loud. "King of the Ring" is built on a modern and mighty riff, making the opener to a first highlight on "We the People". This song scores right away and the furious solo part even strengthen it. The title track is placed on position two and can handle a comparison with "King of the Ring". Modern metal structures are also the base for this heavy riff rocker that includes melodic vocal lines as a counterpart to the intense groove. After having pumped a lot of adrenaline into our bodies it's "Bleeding Hands" that takes things a bit easier going. It's a calmer alternative rock song and the fact that it's more moderate paced doesn't take away the good impression that was build up in the beginning of "We the People". These songs give us a good overview of what can be expected from Adrenaline Mob's newest output. The range of songs covers modern riff rockers like the first too and stretches the borders to melodic alternative tunes, each of them spread out over the tracklist in a way that excitement stays present throughout. It's a bit as what the artwork shows, the diabolic heavy pounders and the softer melodic songs, both trying to get attention from you as the listener of this new album.
The closer of this euphoriant comeback of Adrenaline Mob is a cover version. Adrenaline Mob took Billy Idol's mega-hit "Rebel Yell" which gets out of the starting blocks very well, even though the guys didn't change a lot and stick very close to the original version.
"We the People" is an album that brings Adrenaline Mob back into the spotlight. There is no real downer on this well-produced longplayer, an album that's fun to listen to from beginning to end. Horns up.
(8/10)
Tracklist:
King Of The Ring

We The People

The Killer's Inside

Bleeding Hands

Chasing Dragons

Til The Head Explodes

What You're Made Of

Raise 'Em Up

Ignorance & Greed

Blind Leading The Blind

Violent State Of Mind

Lords Of Thunders

Rebel Yell
Label: Century Media
Genre: Alternative Metal
Release Date EU: June 2nd , 2017