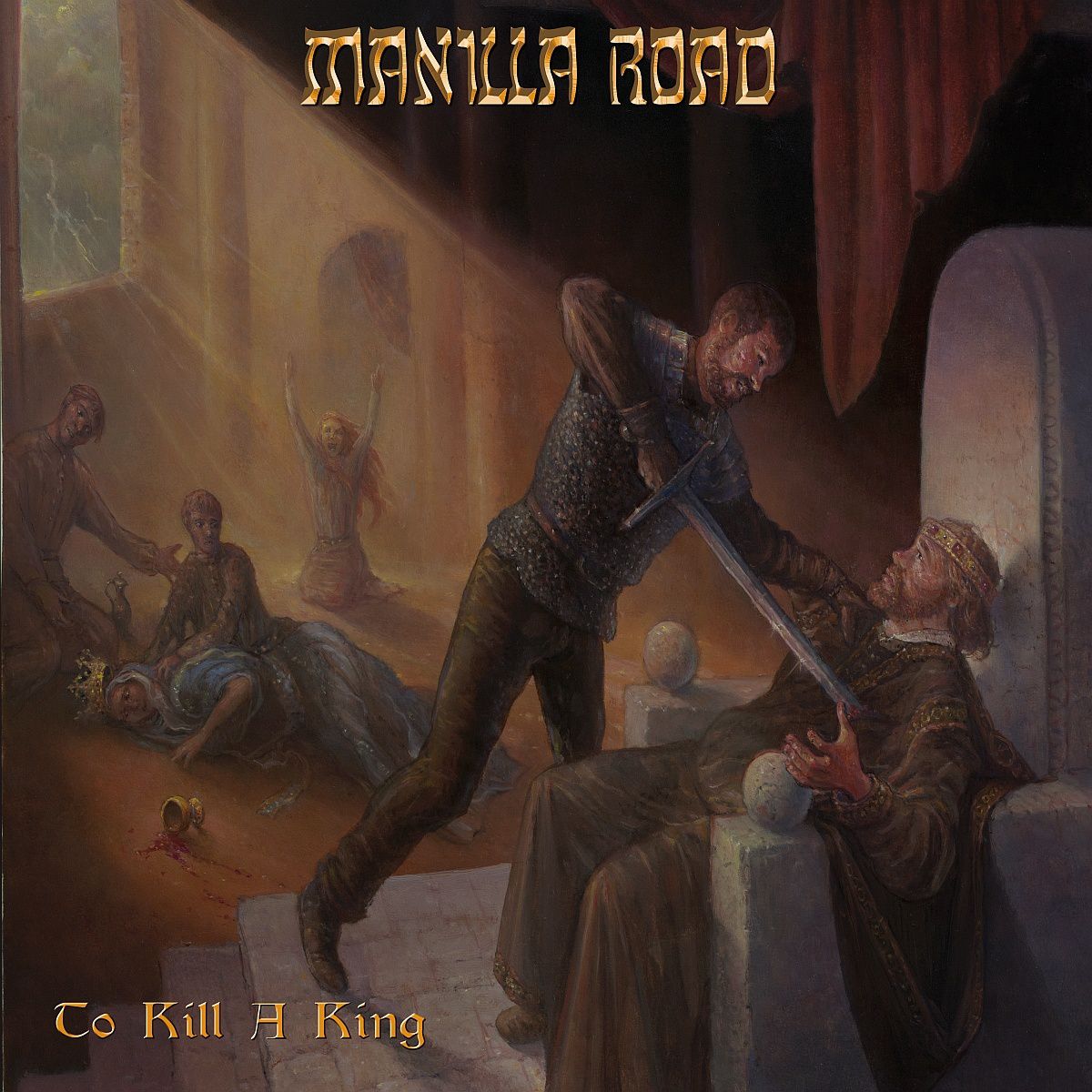 (8/10) Some consistency is very welcome in this fast changing time and some bands provide this well known to their fans. Manilla Road belongs to this group that brings back a warm feeling of epic metal from the early 80's.
If you also appreciate the described you should mark June 30th in your calendar since it's the day of a new Manilla Road longplayer getting out of the starting blocks.
"To Kill a King" raises the count to 18 studio records that capture the result of the band's creative work up to date. The longplayer features ten new tracks, bringing more then one hour of powerful metal right into your living room (or wherever you will listen to this album). I assume that Mark "The Shark" Shelton and his band mates will also not leave the underground and this is meant in a positive way. Manilla Road's music isn't made for the mainstream. As with the earlier releases also the new album focuses on slower-paced metal that partly crosses the lines towards doom.
That the four-piece from Kansas has a wider approach than just slower or more midpaced songs I what "The Arena" brings up to surface. Here we are talking about a furious metal track that's head banging good. And since it's in-between two the calmer and melancholic anthems, "Never Again" and "In the Wake", it acts as a well-placed contrast on a well thought through tracklist.
The trip through basic and virtuous metal continues with "The Talisman" before reaching "The Other Side", which is another hymn in metal.
Each of these tracks on "To Kill a King" comes with a certain depth that makes them different from so many other releases. OK, sometimes things sound like coming from another time but none of these tracks sounds dusted or old-fashioned. In contrary, this album shows the beauty of a constant evolving sound of a band that always keeps sight of their roots. In the end I guess it's the mix of longtime Manilla Road experience of Mark Shelton and Bryan Patrick together with a powerful rhythm section that got with Phil Rose another powerful element in 2016.
There's one song though that at least doesn't work for me - "Conqueror". The tune feels a bit scattered and in one or another way I could find my way into it.
However, "To Kill a King" is another pearl in Manilla Road's long history in metal. These guys stay true to themselves since almost four decades, always aiming for what they like and prefer without being attracted by some flash in the pan trends that also have a rise and fall in metal. Like said in the beginning – consistency rules instead of being attracted by short-term trends that also exist in metal.
(8/10)
Tracklist:
To Kill a King

Conqueror

Never Again

The Arena

In the Wake

The Talisman

The Other Side

Castle of the Devil

Ghost Warriors

Blood Island
Label: Golden Core Records
Genre: Epic Metal
Release Date EU: June 30th, 2017