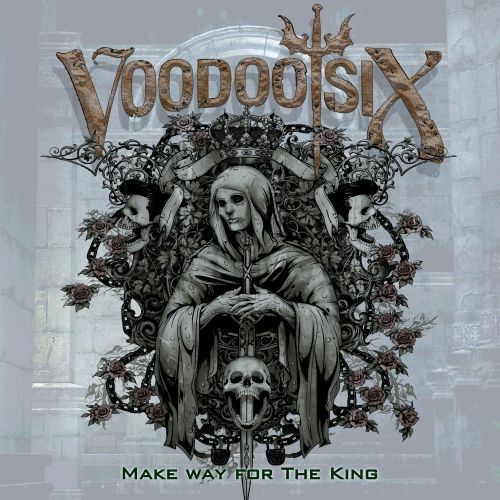 (7/10) Here comes album number four from UK-rockers Voodoo Six. Maybe you haven't heard of the band before, even though the guys have been touring a lot over the last years, opening for bands like Iron Maiden and also playing big summer festivals such as the legendary Download festival. Therefor some brief background information.
Voodoo Six was foiunded in 2003 by bass player Tony Newton and guitarist Richie Faulkner. The band released three albums before Faulkner left the band for joining Judas Priest in 2011. Now, in 2017, the quintet returns to the scene with a new album in their backpack. "Make Way for the King" is the name of an album that's built on hardrock and blues, spiced-up with some classic rock. Twelve songs and more than an hour running time provide you with a solid groove, warm guitar sounds and crispy riffs, all benefiting of a proper production done by Tom Fletcher (Toto, Scorpions, Ozzy Osbourne,...). Thisorganic sound of the album adds a lot to the positive impression I got while listening to this longplayer several times.
Voodoo Six don't re-invent rock music which was probably also not their intention. It's more the good flow and feelingly approach that adds an entertaining factor to their songs, covering a range, from soulful tunes like "The Chocking" and "Amen" to straight rockers such as "Until the End". With the closer "Swept Away" there's also a song on this record that's a tiring and the band would have done well to keep it in the drawer. However, the general impression of this longplayer is a positive one. "Make Way for the King" became a solid release that will help the band to gain attention and interest for their music. Fans of bluesy hardrock should check out Voodoo Six's newest output.
(7/10)
Tracklist:
Electric

Make Way for the King

Let Me Walk

Falling Apart

Riot

Amen

Until the End

Release the Hounds

The Chocking

Walk a Mile

Wasteland

Swept Aside
Label: White Knuckle Records
Genre: Hardrock
Release Date EU: September 8th, 2017