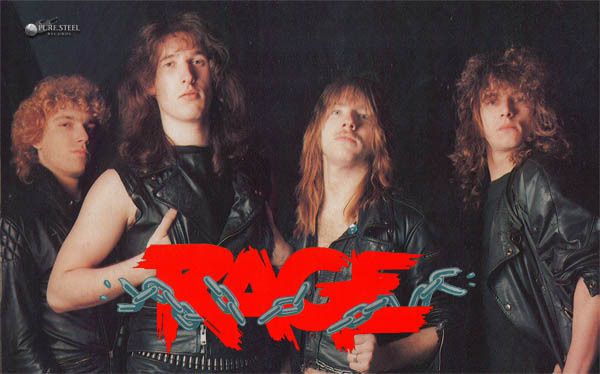 Pure Steel Records will re-release the earlier Rage records including the debut. Furthermore the Avenger classics will be re-released as well. Here comes the original media announcement:
RAGE/AVENGER sign a Record deal with PURE STEEL RECORDS
Hell! Yeah!! Peavy and his band signed at Pure Steel Records for the rerelease of their early material under the band names AVENGER and RAGE!
The vinyl versions will be released as limited versions including tons of bonus material.
What we have in mind to release will be:
"Secrets In A Weird World"
"Reflections Of a Shadow"
"10 Years In Rage: The Anniversary Album"
"From The Cradle To The Stage".
Of course we will begin with the outstanding start of the career from the German legend: AVENGER! Both albums "Prayers of Steel" (as double album!) and the EP "Depraved to black" (as single LP) you will get in a high-end edition. Finally, there will be an AVENGER-box including all AVENGER material! More details also about the RAGE releases you will get in the news for our releases!
LINE-UP RAGE:
Peter "Peavy" Wagner (Rage, Refuge, Lingua Mortis Orchestra, ex-Bassinvaders, ex-Mekong Delta, ex-X-Mas Project, ex-Der Riß) – bass, vocals
Jörg Michael (Heavatar, Headhunter, ex-House of Spirits, ex-Surgeon, Devil's Train, ex-Axel Rudi Pell, ex-Grave Digger, ex-Mekong Delta, ex-Rage, ex-Running Wild, ex-Saxon, ex-Soulslide, ex-Stratovarius, ex-Unleashed Power, ex-Glenmore, ex-X-Mas Project, ex-Living Death, ex-Der Riß, ex-Laos (Gudrun Laos)) – drums
Jochen Schröder (ex-Mekong Delta, ex-Rage) – guitars
Thomas Grüning (ex-Rage) – guitars
LINE-UP AVENGER:
Peter "Peavy" Wagner (Rage, Refuge, Lingua Mortis Orchestra, ex-Bassinvaders, ex-Mekong Delta, ex-X-Mas Project, ex-Der Riß) – bass, vocals
Jörg Michael (Heavatar, Headhunter, ex-House of Spirits, ex-Surgeon, Devil's Train, ex-Axel Rudi Pell, ex-Grave Digger, ex-Mekong Delta, ex-Rage, ex-Running Wild, ex-Saxon, ex-Soulslide, ex-Stratovarius, ex-Unleashed Power, ex-Glenmore, ex-X-Mas Project, ex-Living Death, ex-Der Riß, ex-Laos (Gudrun Laos)) – drums
Jochen Schröder (ex-Mekong Delta, ex-Rage) – guitars
Alf Meyerratken – guitars