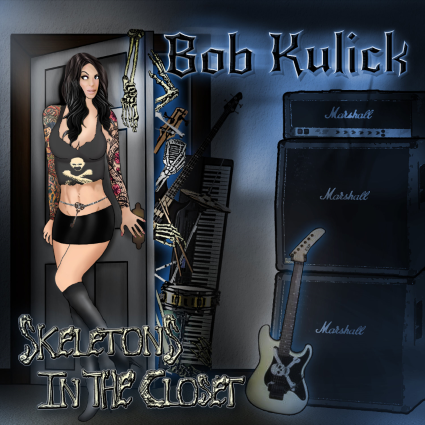 (5/10) If a guitarist like Bob Kulick, known from his contributions to records and touring activities with Kiss and Meat Loaf, releases a solo album, a certain quality standard is expected. Expectations get even bigger, knowing that singers such as Dee Snider, Robin McAuley and more joined the guitarist for this longplayer.
Unfortunately things don't turn out, as they should. "Skeletons in the Closet" features 10 songs of which some are new while others are taken from earlier days. But what could have led to a thrilling hardrock album became an unexciting record from beginning to end.
It starts with artwork. It belongs to worst ones I have seen in 2017 and you wonder who approved this kind of packaging. However, it's the music that counts and therefore there was some hope for a positive twist, which was swept by the opener.
"Rich Man" isn't a shiny pearl in rock. It's an uninspired tune that sounds fragmented and doesn't ignite any fascination. The start into the album isn't an exception. It's an indicator for what you get with the rest of "Skeletons in the Closet". Things peak with a cover song. Kulick took the 'James Bond' classic "Goldfinger" and tried to make something new out of it. I've no idea what the aim and intention for this new interpretation was, but it became an unpleasant one. You can just hope that the great Shirley Basset will never have to listen to it.
The only two 'highlights' are "London", saved by the great vocals by Snider, and the solid rocking "Player". These two songs stand for the best on this album, but can't compensate at all for the other tunes that also come with a sound that's not beneficial. The mix is 'muddy' and you wonder if there is a bass involved in the whole thing. It would have been good if "Skeletons in the Closet" would have stayed in the closet.
(5/10)
Tracklist:
Rich Man

Not Before You

London

Goldfinger

Player

India

Skeletons in the Closet

Can't Stop the Rock

Guitar Commands

Eyes of a Stranger
Label: Vanity Music
Genre: Hardrock
Release Date EU: September 15th, 2017