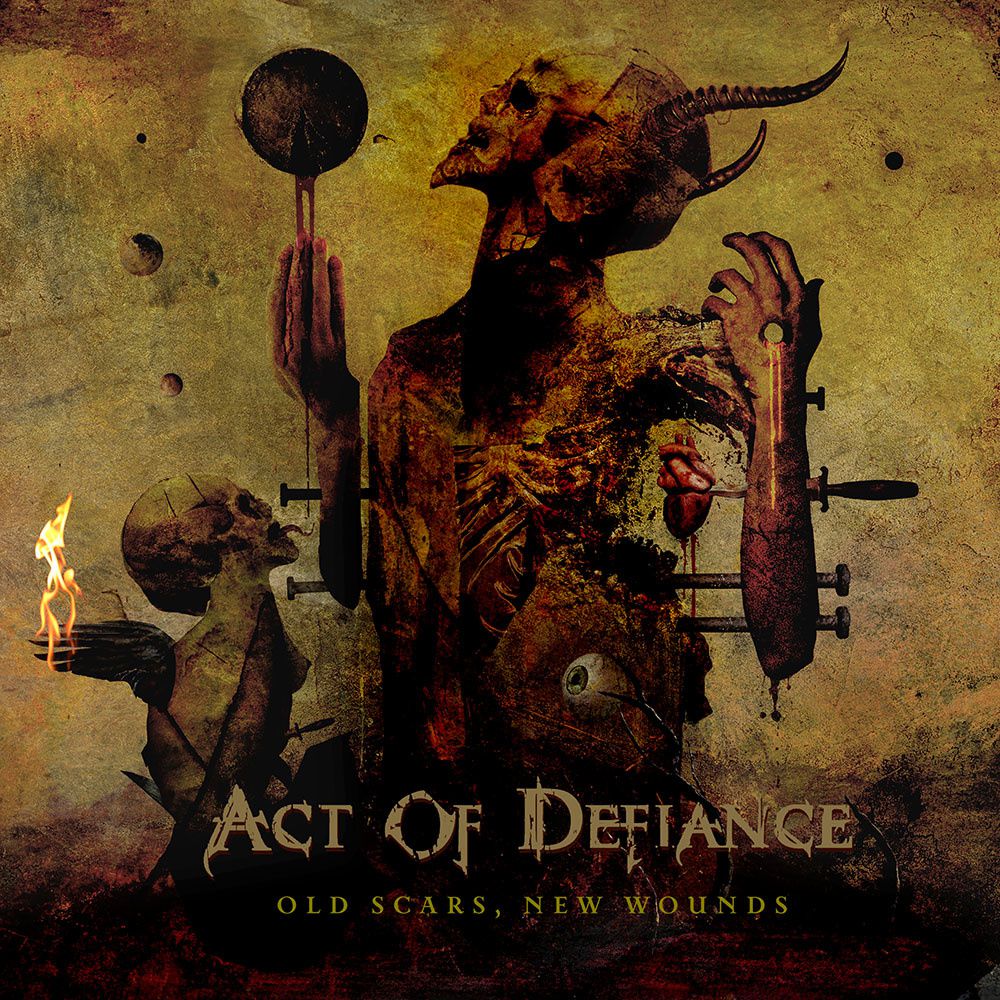 (8/10) L.A.-based Act Of Defiance started as a band three years ago. Even though the band itself is fairly new, the involved band members are highly experienced guys, having been part of metal acts such as Nevermore, Megadeth,....
Act Of Defiance that is Chris Broderick, Shawn Drover, Matthew Bachand and Henry Derek Bonner. This quartet delivered a remarkable album in 2015, when "Birth and the Burial" offered some raw and rousing thrash metal that sounded as fresh as it was brutal and uncompromising. Two years later Act Of Defiance hammers home to fans that the debut wasn't just a flash in the pan. "Old Scars, New Wounds" picks up where the band ended with the debut.
Things start with the steady paced "M.I.A". The songs takes its excitement from the vocals that switch between clean and raspy. Next to it there are some leads as a substantial part of Act Of Defiance's sound. These are a bit restrained compared to other highlights on this album, but they still do an excellent job.
After such a good but moderate beginning the band releases the handbrake with the thrashy "Molten Core". It's a furious metal anthem that's spot-on. "Overexposure" is next in the batting order and it's another well-performed hit that helps the album to score. What comes a bit from leftfield are the parallels with the recent In Flames sound. Did the band move to Gothenburg? "The Talisman", with its Metallica-inspired riff, gives the immediate answer. No, they don't. The track is a bit more complex than others on the album before the merciless "Lullaby of Vengeance brings back metal that is to the point. Like with the opener it's the raw vocals that tend to growls which give the song aggressiveness that's cleverly balanced by melodic solo parts.
There are more of these heavy pounding tunes on the album, with "Reborn" and "Conspiracy of the Gods" being two of them. Slowly, things come closer to an end. "Rise of Rebellion" is the closer of this dynamic and agile album. Act Of Defiance added another terrific album to their list, a catalogue that provides quite some excitement for metalheads.
(8/10)
Tracklist:
M.I.A.

Molten Core

Overexposure

The Talisman

Lullaby of Vengeance

Circle of Ashes

Reborn

Conspiracy of the Gods

Another Killing Spree

Broken Dialect

Rise of Rebellion
Label: Metal Blade Records
Genre: Thrash Metal
Release Date EU: September 29th, 2017