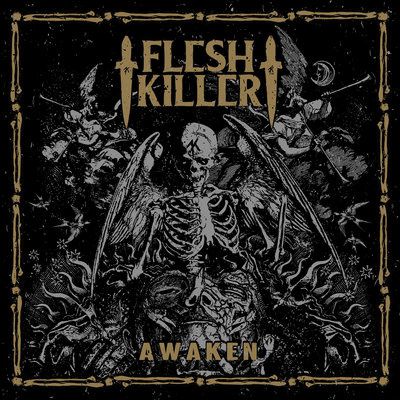 (8/10) Fleshkiller is fairly new, and not. The band itself began in 2015 as a side project of Ole Børud and Peter Dalbakk. These two guys worked together earlier and were band mates of Schaliach. Furthermore Børud is well-known as an important factor of Extol.
The duo teamed-up with Ole Vistnes and Andreas Skorpe Sjoen, representing the forceful rhythm section of Fleshkiller. After starting in the line-up Dalbakk left the band in 2017 and was replaced by singer/guitarist Elisha Mullins, who completed the quartet without them losing any power and force.
After having left behind stormy water days of a line-up change, the band fully focused on their first full-length release "Awaken", an album that comes on September 15th via Indie Recordings.
With such a history and a special link to Extol, one thing is quite obvious. We are talking about technically demanding death metal that includes progressive structures which are challenging for musicians and probably for fans as well. Fortunately things don't go too crazy on "Awaken".
This album is a diversified piece of music that includes many components, all going together very well. There are deadly riffs that are complex and demanding. These are accompanied by the beat and groove of a dynamic rhythm section. What additionally contributes to Fleshkiller's sound is the variation when it comes to vocals. Clean vocals, yelps and deep growls are part of this musical experience which makes tracks like "Awake" to a rich one. Furthermore there are the speedy numbers of which the opener "Parallel Kingdom" is one. What's also part of Fleshkiller's first strike are cinematic moments when things get more bombastic. Bigger choir sections, like in the second half of "Sale of the Earth", remind of Canadian guitar wizard Devin Townsend, more as an inspiration rather than a copycat of course.
"Awaken" isn't a one time listening excursion. This album screams for a few more rounds of listening. The first round gives you the pleasure of harsh death metal, but the more you listen to the tunes, the more details you can uncover, adding value to each time you listen to "Awaken".
(8/10)
Tracklist:
Parallel Kingdom

Salt of the Earth

Wisdom

Secret Chambers

Awaken

Inherit

Evil Eclipse

True Image

Warfare

Window of Time
Label: Indie Recordings
Genre: Progressive Death Metal
Release Date EU: September 15th, 2017