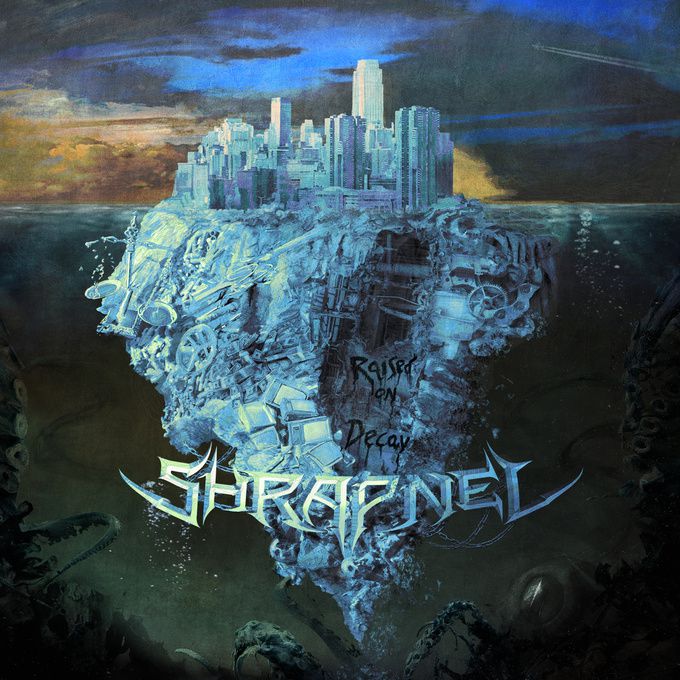 (7/10) UK's thrash metal scene brought quite some good bands up to surface with groups like Onslaught being the spearhead. Eight years another metal outfit was born, Shrapnel. The five-piece, hailing from Norwich, published with "No Saviours" a first EP in 2009 and premiered in 2014 with "The Virus Conspires". Another three years later, Shrapnel unveils their sophomore longplayer "Raised on Decay", comprising eleven new thrash metal smashers.
Shrapnel's sound is fast and raw. The furious leads are all over the place and the album, in it's entirety, doesn't give any space for taking a deep breathe. The quintet from Norwich has mostly a foot on the gas pedal. Sometimes, like with the title track, the listener can find some calmer parts, but as soon as you get the idea of entering a more moderate pace the five-piece band floors again the gas pedal and shifting two gears in one go.
This raw and unbound energy is the benefit of "Raised on Decay" and it's the weak point too. The songs on this album are a bit too much of the same thing only different. Some breaks, like in "Choir of Wolves", act as a well-done distraction from the high-speed approach, but in general the songs are following very much the same pattern. A bit more variation would increase the level of tension, moving a good album to a very good one.
However, "Raised on Decay" is an interesting thrash metal album that should be checked out by fans of bands like Exodus, Sodom and some more.
(7/10)
Tracklist:
Hollow Earth

Complete Resection

The Boundaries Set

Jester

Pariah

Echoes of Emptiness

Carved from Above

1.0.1

Raised on Decay

Choir of Wolves

Antichrist
Label: Candlelight Records
Genre: Thrash Metal
Release Date EU: September 29th, 2017