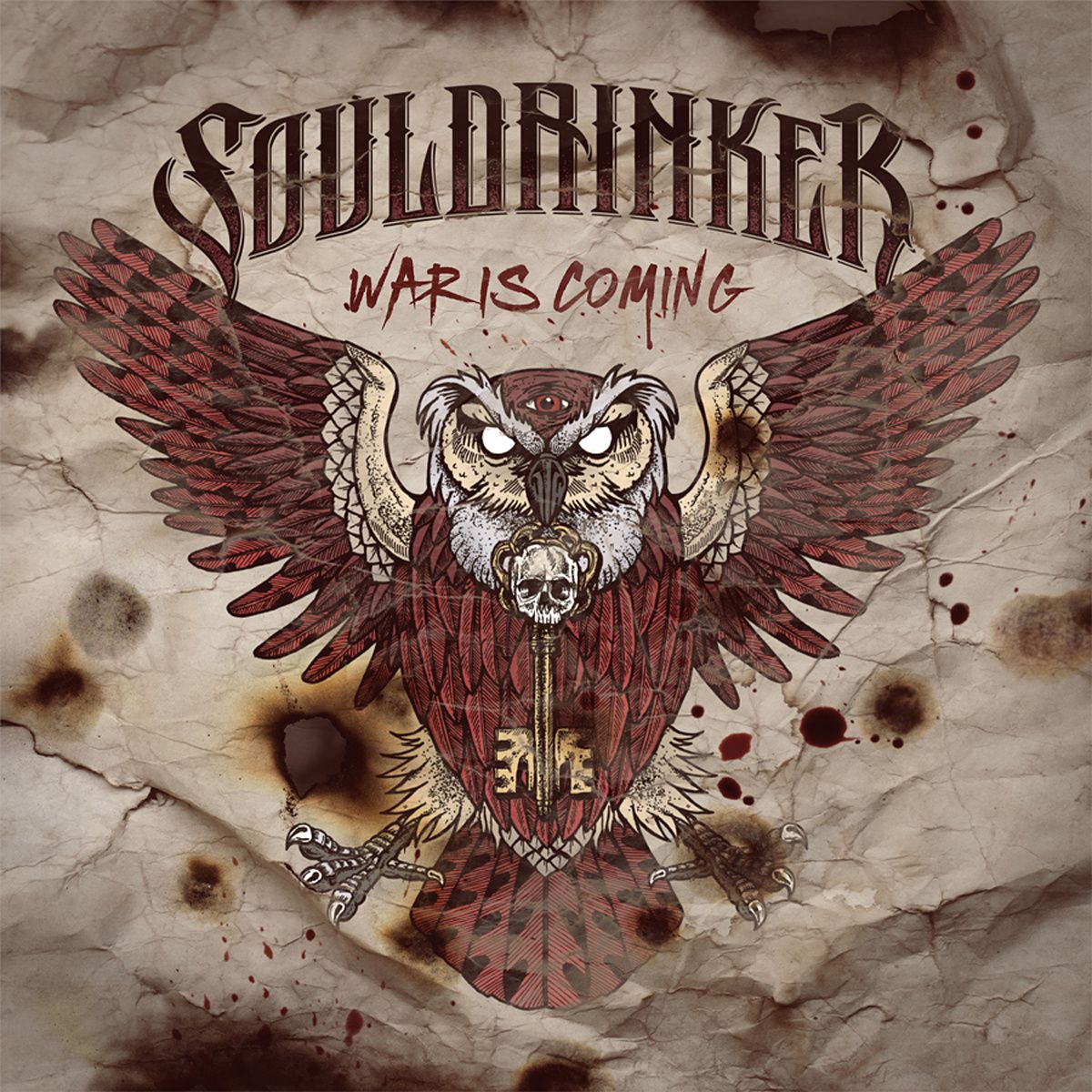 (8/10) Sometimes it's interesting what comparisons are mentioned in conjunction with a new release. In this case Pantera and Amon Amarth brought up and I wonder where the idea comes from. Souldrinker has, in my humble opinion, nothing to do with thrash metal a la Pantera, nor I could find any link with Swedish Vikings of Amon Amarth. What gives a good idea about Souldrinker's sound though is by taking a glimpse into the history of co-founder Markus Pohl. The guitarist has been part of Mystic Prophecy, a clear indication of what to expect.
Souldrinker, active already since 2012, is a power metal outfit that released two EP's and finally got the chance to ink a deal. It was Swabian El Puerto Records, home of bands like Witchbound, who signed this powerhouse from Stuttgart with the debut being in the starting blocks as we speak.
"War is Coming" is the name of the debut that comes with ten energetic power metal tracks, all including a good sense for melodies and hook. Next to harsh and mighty riffs it's singer Iris Boanta who's a win for these songs. Her energetic and raspy metal voice is a perfect match with this kind of metal, enriching songs like the moderate "Promised Land" and "Final Stand", which is a true power metal anthem. All this couldn't fly if there wouldn't be a rhythm section that's pushing hard. Chris Rodens and Steffen Theurer do their best to give the album the right punch, an aim they scored with when it comes to "War is Coming".
Last but not least I would like to mention the powerful sound the album comes with. Tom Mueller took care about the production while Eike Freese was at the helm when it comes to mastering. Both guys gave the album a hefty sound that underlines to joy of power metal.
Souldrinker's debut is a rock solid album. It's a positive surprise, an album that sticks out of the mass by its metal ingredients. But as so often, it's not only the ingredients you use that make the difference, it's also the way how you out them together, the latter being something Souldrinker definitely succeeded with too. Good stuff from Swabia.
(8/10)
Tracklist:
Let the King Bleed

Souldrinker

Promised Land

To the Tick

Take My Pain

Like Rain…

Raise the Flag

Fire Raiser

Voices

Final Stand
Label: El Puerto Records
Genre: Power Metal
Release Date EU: November 3rd, 2017