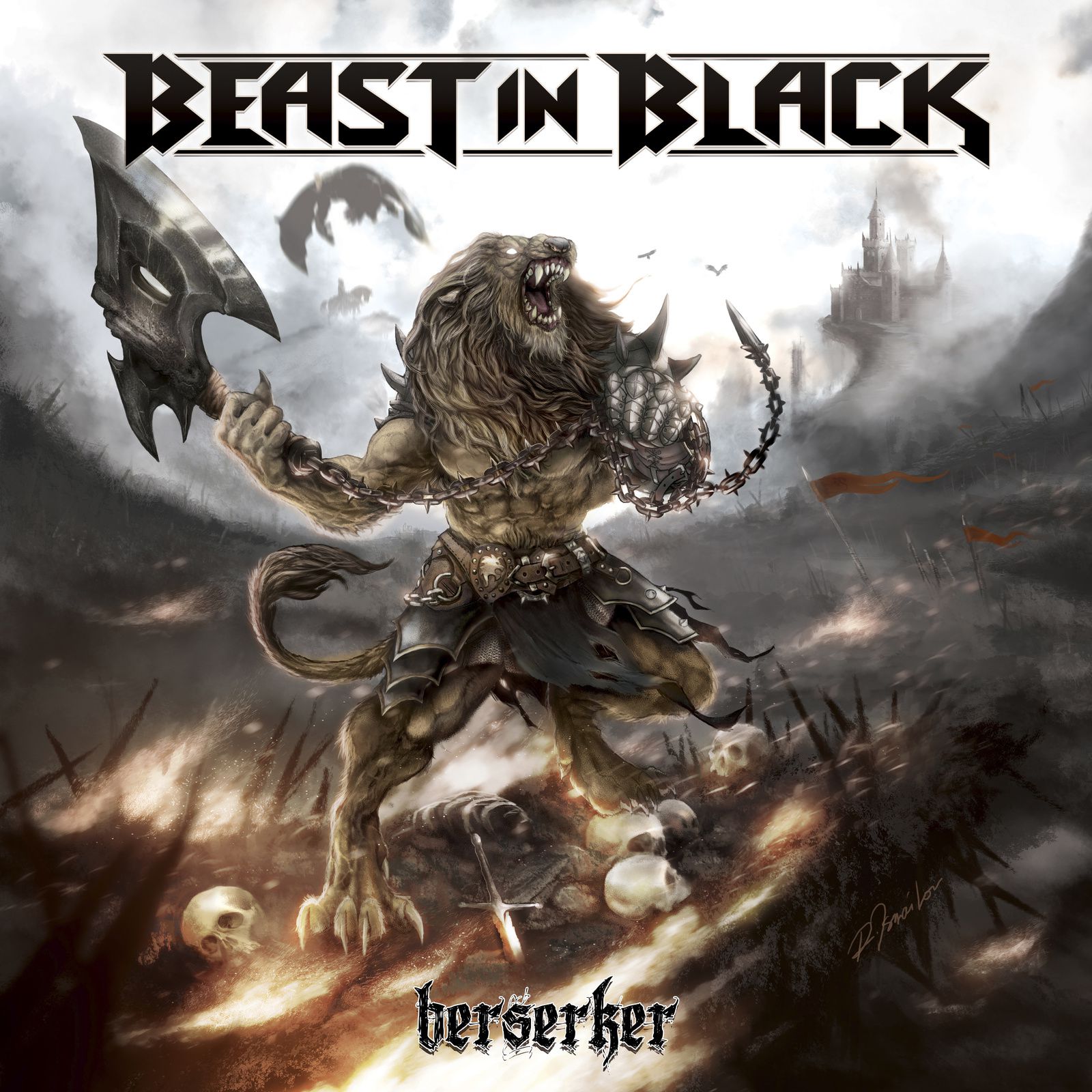 (6/10) Actually I was curiously looking forward to "Berserker", Beast In Black's debut. The band is the brainchild of former Battle Beast guitarist Anton Kabanen and therefore it's not a too big of a surprise that Beast In Black shows some parallels with what his former band mates release. The question was about how far does Beast In Black deviate from Battle Beast or is there a lot in common? In the end it's a mixed bag with a lot of similarities.
Awaiting a great album with bombastic sounds, I pressed the 'Play'-button and actually the start is not too bad. "Beast in Black" get's out of the boxes very well. With power and glory the band celebrates melodic metal with heavy riffs, catchy vocal lines and melodic keyboards, all together leading to an excellent start into this album. It also shows a crucial asset which is Yannis Papadopoulos excellent voice and his terrific way of singing. This guy is a metal siren, covering a wider vocal range. And last but not least it's the extremely powerful production that adds to a positive impression too.
Compared to the first single, "Blind and Frozen", the opener is a true highlight on an album that you either love or hate. The reason for the last statement is since things don't continue as they started. There are few more excellent track on the album of which the speedy "Zodd the Immortal" is one. Actually it's this number that's the true hero on the album. I even can live with the calmer ballad "Ghost in the Rain", a good song that doesn't bring a lot of new to the table.
What's really irritating are some songs, esp. in the second half of the album. "Eternal Fire" is far too much inspired by Europe's "The Final Countdown". Who needs this? "Blood of a Lion" sound like a trivial version of a Sabaton song, but the worst I have heard for quite a while is still to come. "Crazy, Mad, Insane" is a disco pop song that sounds like a harder version of Modern Talking and C.C. Catch. Seriously? Nothing against melodies, nothing against keyboards and nothing against catchiness, but this is just far too much for my ears. However, this song has one thing I also can't deny – you don't get the melody out of your mind.
"Berserker" is a controversial album. Puristic metal fans should definitely keep their hands off from this release, but the debut will also find some friends out there in the metal world. The remaining question for me is, why the guys didn't continue writing songs like the opener or the mentioned "Zodd the Immortal". This beast isn't black. It's as colorful a rainbow following a strong rain shower and if this is what you're looking for, you found it.
(6/10)
Tracklist:
Crash And Burn

Fool On Fire

One Million Miles

Tears

She Likes To Give It

Rags To Riches

Last Time For Love

I'm No Good For You

Saturday Night

Don't Tell Me Tonight
Label: Nuclear Blast
Genre: Melodic Metal
Release Date EU: November 3rd, 2017