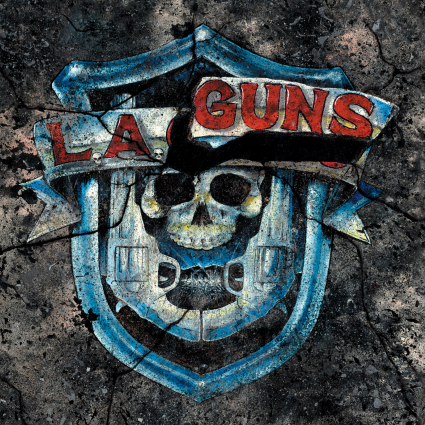 (8/10) It's unbelievable that the start point of L.A. Guns was already 34 years ago. Time really flies, fortunately still being able to remember the days when "L.A. Guns" and "Cocked & Loaded" brought some street attitude into the posing L.A. sleaze metal scene.
L.A. Guns' career looked more like a rollercoaster with many ups and downs. After a very successful start the band didn't manage to maintain their winning streak. Line-up changes have been a constant companion over all these years, a time that also included break-ups as well as there have been reunions with even two versions of L.A. Guns have been around in the beginning of the new millennium.
Key players in L.A. Guns have always been Tracii Guns and Phil Lewis. Since the guys decided years ago to walk on different roads, it was an unexpected surprise when the guys announced in 2016 to work together again under the banner of L.A. Guns. It was the first time in 14 years that the two musicians played some shows, sharing the same stage, and after some misunderstandings have been sorted out the route to a new album was paved.
"The Missing Piece" is the result of this fruitful cooperation and I must say that it became better than expected. What I always liked with the bands' sound is that they kept a dirty rock'n'roll vibe in their songs. L.A. Guns never has been, neither they are, one of these polished rock bands that puts image before quality with also their newest longplayer being no exception.
The five-piece placed well-crafted rock tracks on the longplayer. Sometimes things are more melodic ("Don't Bring a Knife to a Gunfight"), other moments present a band that loves to play fast and furious ("Speed") and last but not least there are the soulful songs of which the ballad "Christine" is one of them.
The album can keep a high level of quality from beginning till end. It's great to listen to Lewis powerful voice in combination with Guns' hard rocking riffs, a setup that turns tracks like "The Missing Peace" into real ear candy.
It looks like, there's enough common ground again between band members, leading to a rock album that replaces bells and whistles with dust and gasoline. "The Missing Peace" is an album that I haven't expected to be that strong and I think you should give it a try. It's no waste of time.
(8/10)
Tracklist:
It's All The Same To Me

Speed

A Drop Of Bleach

Sticky Fingers

Christine

Baby Gotta Fever

Kill It Or Die

Don't Bring A Knife To A Gunfight

The Flood's The Fault Of The Rain

The Devil Made Me Do It

The Missing Peace

Gave It All Away
Label: Frontiers Music
Genre: Hardrock
Release Date EU: October 13th, 2017