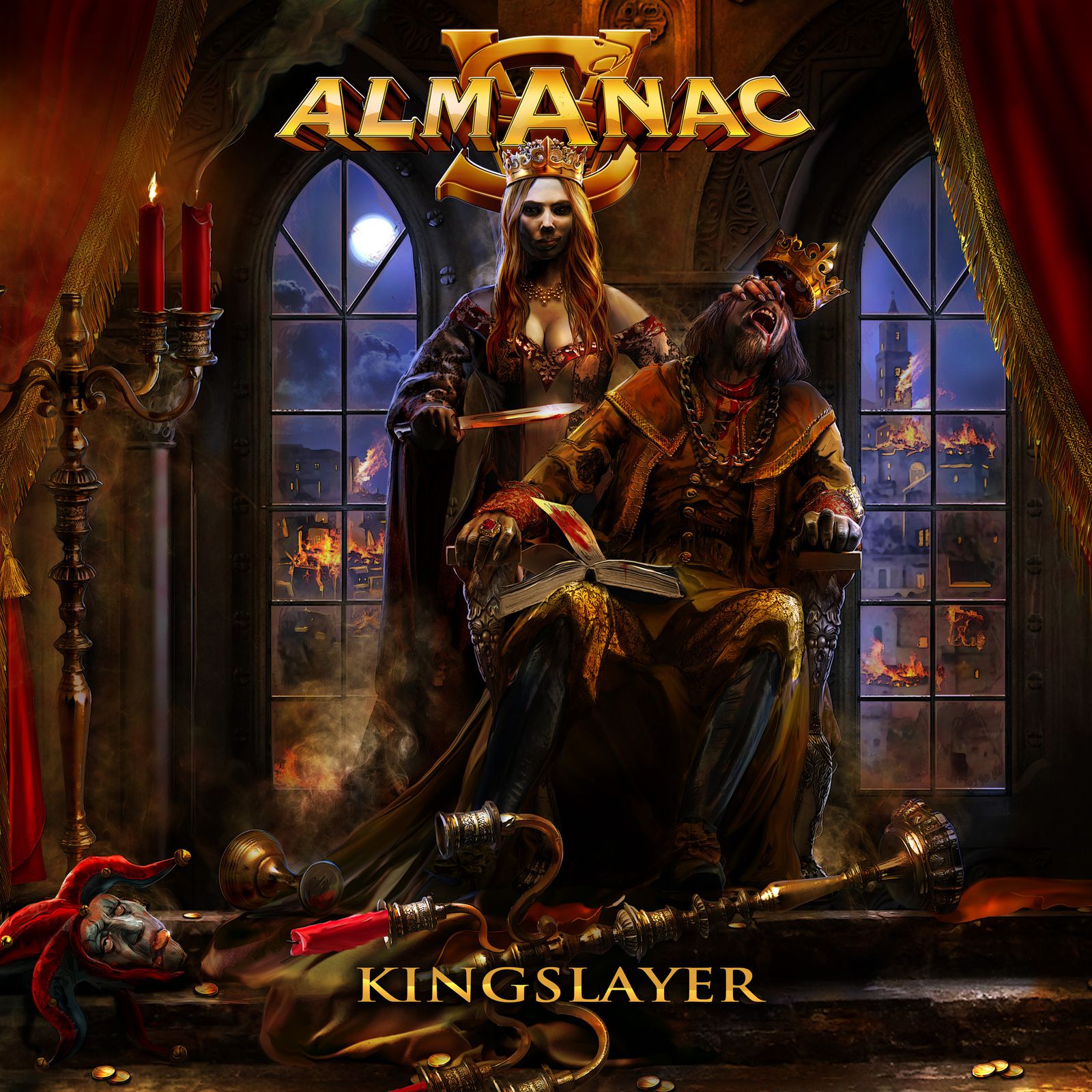 (8/10) The story of Almanac isn't a too long one up till now. The band is active since two years and premiered in 2016 with an album entitled "Tsar". Not having a very long track record as a band doesn't mean that we are listening to rookies. Almanac is the brainchild of no less than former Rage guitarist Victor Smolski.
The guitar wizard teamed up with some excellent singers, Tim Rashid on bass and Zacky Tsoukas on drums. The job behind the microphone is a share responsibility, done by Andy B. Franck, David Readman and Jeanettet Marchewka. While the latter has already been part of the Lingua Mortis Orchestra it's Readman (Pink Cream 69) and Franck (Brainstorm) that adds the metal spirit to Almanac's powerful metal adventure.
"Kingslayer" is the sophomore release of Smolski and Co., featuring ten new songs. The album is a organic continuation of what started with "Tsar" in 2016. The beauty with "Kingslayer" is the ease that comes back in each of the ten tracks. Nothing feels forced, nothing sounds like an obligation. The album, with a running time of 50 minutes, comprises bombastic power metal that's built on Smolski's musical finesse and vision. Also having the right musical companions on board allows the guitarist to transfer his ideas into songs that adds epic moments to riff-base metal.
It's "Regicide" that kicks off the album with mystic vocals and it's the chorus that shows the great sense for excellent melodies. Almanac shifts gears with "Children of the Sacred Path". The uptempo song combines melody and roaring guitars to a metal anthem that gets out of the boxes more than well.
One of the highlights on "Kingslayer" is the moderate paced "Hail to the King" and also the emotional "Last Farewell" does a good job, showing the calmer aspect of Almanac's sound.
"Kingslayer" is first and foremost an entertaining and well-crafted metal release that combines creativity and heaviness. This album isn't just 'off the shelf' metal. "Kingslayer" is full of ideas and twists , making it to far more than just a standard release. Good stuff.
(8/10)
Tracklist:
Regicide

Children of the Sacred Path

Guilty as Charged

Hail to the King

Losung My Mind

Kingslayer

Kingdom of the Blind

Headstrong

Last Fahrwege

Red Flag
Label: Nuclear Blast
Genre: Melodic Power Metal
Release Date EU: November 24th, 2017