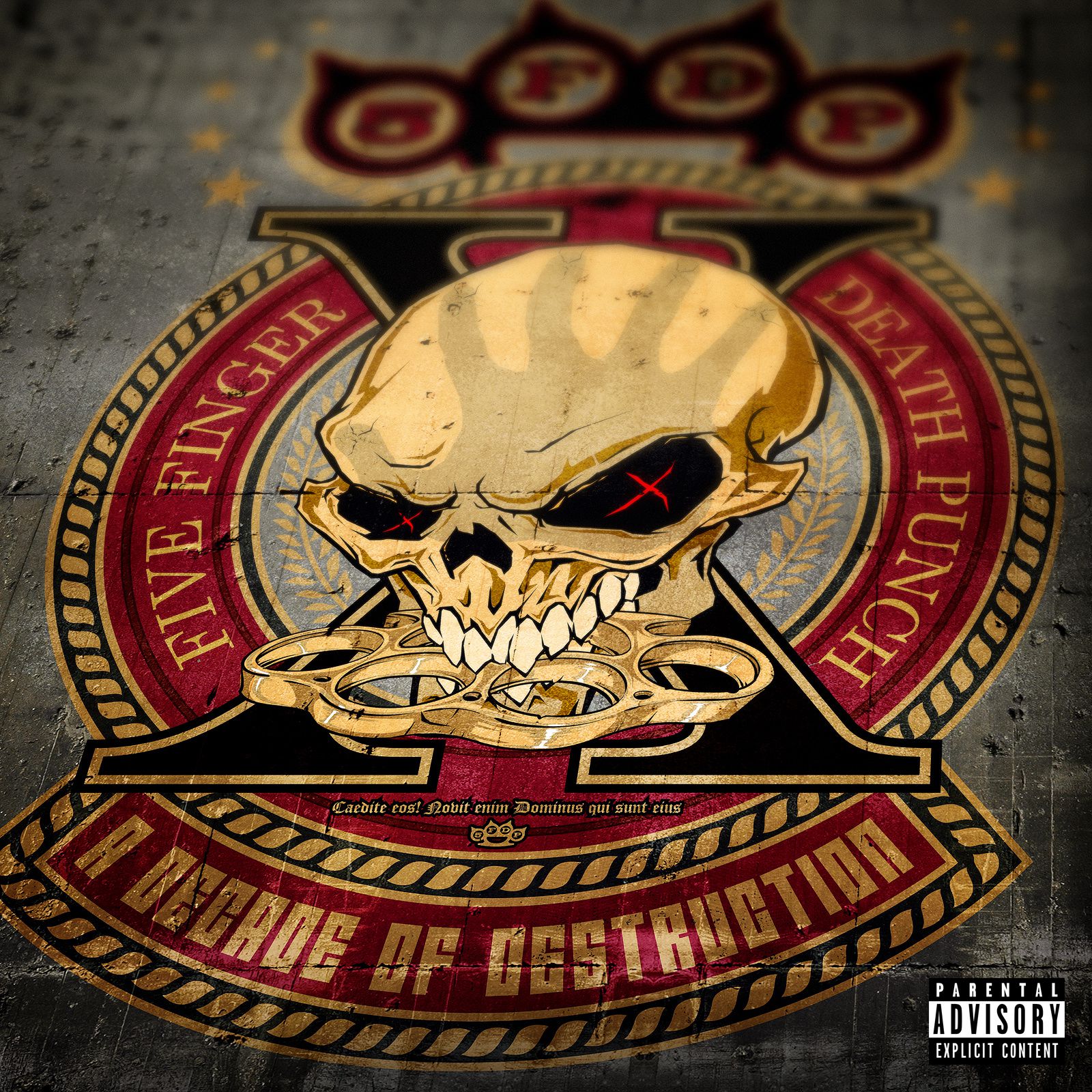 (*/10) Right before Christmas and perfectly synced with the current European tour Five Finger Death Punch ships a "Best of…" album to the record stores. "A Decade of Destruction" comprises 16 songs, covering one decade of modern metal from California. 5FDP premiered in 2007 with a longplayer entitled "The Way of the Fist"; a disc that included "The Bleeding" which is part of this compilation too. Next to this rearview the record also includes songs from the latest album and everything in-between.
In order to also add something extra for true fans of the band the guys recorded two new songs for this album. "Trouble" is the opener and it's a pushing metal track that comes with a melodic chorus, a heavy riff and a pounding drum-line. 5FDP recently faced quite some trouble with a negative peak during the show in Tilburg. This new song feels like a coming to terms with this experience, starting a next 5FDP chapter.
It's "Gone Away" which is the other new song, following the opener. The band kept this number in a moderate pace. A melancholic vibe is embedded, shifting the sound more towards alternative metal. The tune is slowly building up towards the chorus but stays in the general pattern of a dark rock song that has some hit potential.
"A Decade of Destruction" is a typical "Best of…" album that at least adds some extra by two new songs that are probably interesting for fans of Five Finger Death Punch.
(*/10)
Tracklist:
Trouble (new song)

Gone Away (new song)

Lift Me Up

Wash It All Away

Bad Company

Under And Over It

Wrong Side Of Heaven

House Of The Rising Sun

I Apologize

The Bleeding

Jekyll And Hyde

Remember Everything

Coming Down

My Nemesis

Battle Born

Far From Home
Label: Eleven Seven Music
Genre: Modern Metal
Release Date EU: December 1st, 2017