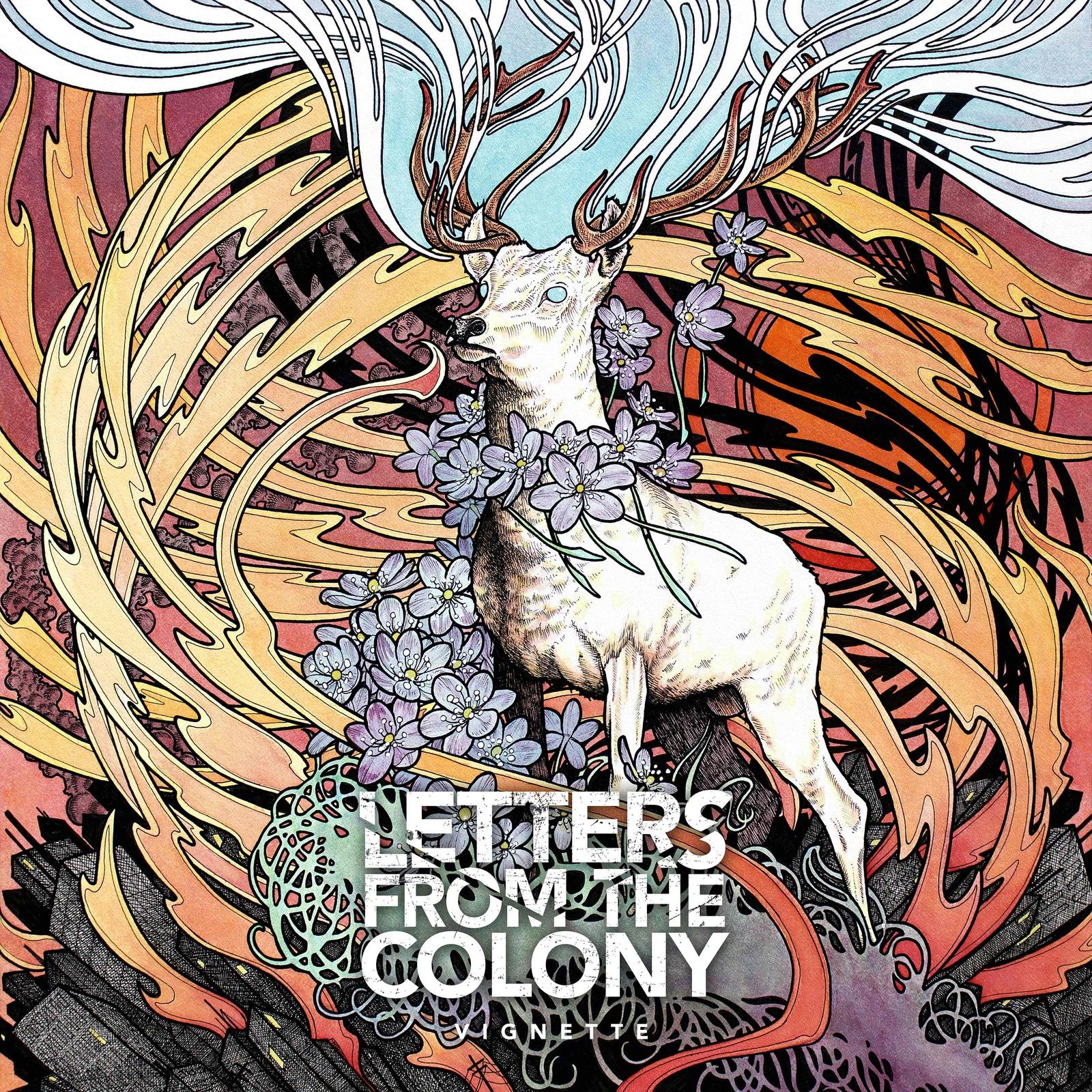 (9/10) I guess you can only write extreme music if, in one or another way, extreme things happened in your life. Now, why am I mentioning this. Swedish death metal outfit Letters Of The Colony is very much into extreme metal and one 'extreme' is coming from Borlänge in the middle of Sweden. The city is mainly build on steel production industry and paper industry with not that much around that distracts mind and soul. This is a kind of extreme situation when you grow up and playing music is a welcome thing, esp. in the long dark winter days, weeks and months.
Letters From The Colony, hailing from Mid-Sweden, invested time and passion into writing metal songs that can't be compared with basic metal music. If you love a nice flow, hooks and melodies you can stop reading right here and now. This quartet doesn't bring any satisfaction tor you guys. But if complex music on an extremely high quality level is what you appreciate, you might found a new exciting album that you will love. The quintet, consisting of Alexander Backlund (v), Sebastian Svalland (g), Johan Jönsegard (g), Emil Östberg (b) and Jonas Sköld (d), is in general terms comparable with Meshuggah. Not that the guys from Borlänge sound exactly the same; it's more the way on how they approach music and complexity in a way that's fascinating and thrilling.
And since the album doesn't follow a regular pattern also this review doesn't follow the normal beginning to end approach. Let's start with the closer on this longplayer, which is the title track "Vignette". Letters From The Colony ignite a metal firework the takes 12 minutes and, sticking to the metaphor, show all colors of ambitious metal music. Brutal riffs are a main pillar of this epic track while multilayered sound elements is another one. In order to break the chaotic structure of loudness the guys added a calm section to this milestone that includes a saxophone part, reminding of jazzy bar music. The section adds ambience to the total and shows the open minds of this Swedish quintet when it comes to styles and music. After such a moment of recharging, batteries are loaded again - the right moment for the song gaining power and brutality again.
Let's jump from end to beginning. Before you can enjoy the highlight of the album you have to work yourself through eight additional tracks. Now, 'work' seems like an enormes effort, which isn't actually the case. It's more that you have to pay extra focus and attention to each these tunes since they aren't no-brainless or musical fast food. Letter From The Colony added so many nuances to their songs that things are quite demanding for listeners. Again, take "Galax", the opener. The track comes with deep growls, head blowing riffs and a soulful middle section as a counterpoint to what you've heard before.
And not that there's only variation embedded in each song. Also the tracklist comes with an unexpected moment. "This Creature Will Haunt I Us Forever" is an instrumental interlude that feels like being in the eye of the storm. It's a calmer moment on this album, surrounded by a progressive death metal twister that blows you away.
"Vignette" is an album that's worth many spins on your recordplayer. It took me quite a while to get into it. I can recommend to not give up since there will be a moment when fascination takes over and from then on you can stop listening to this creative masterpiece. Jaw-dropping good.
(9/10)
Tracklist:
Galax

Erasing Contrast

The Final Warning

This Creature Will Haunt Us Forever

Cataclysm

Terminus

Glass Palace

Sunrise

Vignette
Label: Nuclear Blast
Genre: Progressive Death Metal
Release Date EU: February 16th, 2018