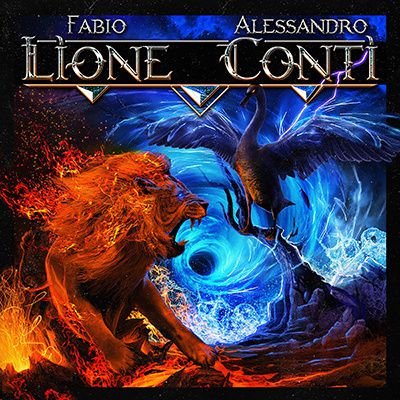 (7/10) As the band's name predicts, Lione/Conti consists out of no less than Fabio Lione and Alessandro Conti, both having an history with Rhapsody / Rhapsody Of Fire. In addition Alessandro Conti is also part of Italian power metal outfit Trick Or Treat, all giving an idea of what you get served with this debut.
In the meantime it's well known that Italian Frontiers Music label had and has more of these projects where they bring musicians together for a specific longplayer. Normally it's a singer and a guitarist, but this time it's two singers that combine forces for a certain moment in time.
Such a project is more of an unusual endeavour but it's not new either. Just thinking about the excellently done Allen/Lande albums shows that such a collaboration can lead to excellent tunes.
"Lione/Conti" is an album that can live up to expectation. The duo, together with Marco Lanciotti (d), Filippo Martignano (key) and Simone Mularoni (g/b), offer a wider spectrum of melodic metal songs. Sometimes reminding of Queensryche ("You're Falling"), mostly catchy ("Destruction Show") and sometimes calmer (Somebody Else") the quintet delivers songs that are easy approachable. It doesn't take you a huge effort to get into this album, a record that deserves more than just one spin.
Like mentioned earlier, "Lione/Conti" lives up to expectation. Good songs, good melodies, good sound and certain predictability.
(7/10)
Tracklist:
Ascension

Outcome

You're Falling

Somebody Else

Misbeliever

Destruction Show

Glories

Truth

Gravity

Crosswinds
Label: Frontiers Music
Genre: Melodic Rock
Release Date EU: January 26th, 2018